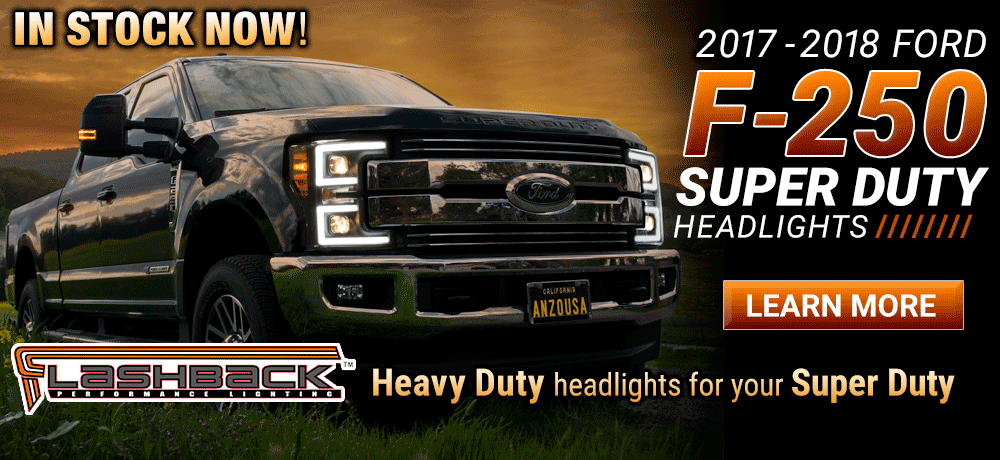 After Market Super Duty Option Now Avaliable
Did you purchase a 2017-2018 Super Duty and your budget doesn't allow you to upgrade to Factory OEM LED's? Unleash The Ford now offers an aggressive aftermarket option for budget conscious customers alike that won't break the bank!
​
While even the baseline factory halogen headlights on the 2017 to 2018 F250s and F350s are pretty stylish, they don't really cut it when it comes to either their light output or their overall look if you have a more aggressive styling theme in mind for your truck. ANZO's 2017 to 2018 F250 and F350 Super Duty LED Outline Projector Headlights are some of the most awesome and aggressive aftermarket headlights you can grab for your truck. Designed specifically for 2017-2018 F250s and F350s with base halogen reflector headlights, ANZO's headlights feature a dual projector lens design for both the high beams and the low beams set in a black housing that completely changes the looks and character of your hyper-tough Super Duty build. ANZO's headlights even have an OE-style LED outline strip that functions as both a white running light and amber turn signals to make your F250 really turn a few heads.
​
ANZO's headlights were carefully designed as drop-in, plug-and-play replacement headlights for your 2017 to 2018 F250 or F350 that will give your truck an aggressive, new look in practically no time. The headlights install right in place of stock and have easy plug-and-play wiring connectors for both projectors, and only minor wiring for their LED outline strip. Both the low beam and high beam projector use an H7 halogen bulb and provide excellent levels of brightness and output with a more distinct cutoff over the factory headlights. The LED strip has a dual function design with both a white running light tied into the factory parking light and an amber turn signal that makes these headlights some of the most unique on the market.
The headlights are fully sealed and come with installation instructions and a 1-year limited warranty.
​
Halogen Reflector Replacements Only

: these headlights will only work on F250s and F350s that came from the factory with base halogen reflector headlights. They will not work on models that came stock with upgraded OEM LED headlights.
​
ANZO's Warranty: ANZO offers a 1-year limited warranty against manufacturer defects. Customers are responsible for shipping their lights to ANZO for any repairs, and will be responsible for the shipping charge back if the lights are sent in for warranty work outside of their first 30 days. Condensation issues are covered under the terms of ANZO's warranty.